NFL Flag Football
Lost Nation Sports Park is pleased to introduce the area's premier Youth Indoor Flag Football league. One of the primary attractions of our program is that games are played indoors in our climate-controlled, comfortable facility. We are now pleased to announce LNSP Indoor Flag Football will be teaming up with NFL FLAG, Powered by USA Football!!!
NFL Flag reversible jerseys
NFL Flag belts
Free USA Football memberships
Youth NFL Flag Football – East dates TBA
West – Lorain
Summer 2019!
Camp Info: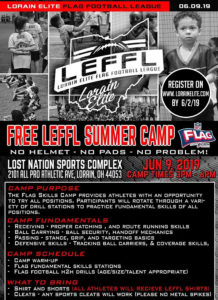 League Info: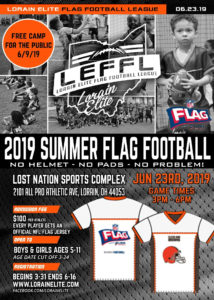 ---
Latest News
May 24, 2019
CK 3-on-3 Basketball Tournament – July 26-28, 2019
CK 3-on-3 / Basketball Tournament July 26-28, 2019 at Lost Nation Sports Park EAST  All teams are guaranteed at least three games. Teams can have up to four players, and the cost per team is $100.00. Payment can be made through PayPal, or by check made payable to the Coach Kyle Elig Foundation and sent […]
May 2, 2019
Beginner Vinyasa Yoga Class – May 8th
Your breathe, your practice, your experience. Let's work on your yoga journey together. Starting Wednesday, May 8th from 7-8pm join Tanja Bartulovic for  Beginners Vinyasa Yoga at Lost Nation Sports Park. It's time to sneak away from your busy life and just breathe. All levels are welcome. Message Yogabytaj for more information. 🙏🏼