Zumba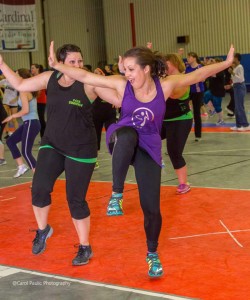 What is Zumba?
Zumba Fitness® is the only Latin-inspired dance-fitness program that blends red-hot international music, created by Grammy Award-winning producers, and contagious steps to form a "fitness-party" that is downright addictive. Since its inception in 2001, the Zumba program has grown to become the world's largest – and most successful – dance-fitness program with more than 12 million people of all shapes, sizes and ages taking weekly Zumba classes in over 110,000 locations across more than 125 countries. Zumba can burn anywhere from 500-1000 calories in one hour!
Classes Schedule : 
Mondays (Zumba Toning) 6:00-7:00PM – The best way to get your cardio and strength training at the same time. Please bring your own 1-3lb weights
Tuesdays  (Zumba Core) 5:45-6:15PM, (Zumba Fitness) 6:30-7:30PM
Saturdays (Zumba Fitness) 10:00-11:00AM
$5 per class
Located in the Basketball department of LNSP
Ditch the Workout, Join the Party on Facebook!
*We are not Zumbatomic certified, therefore our class is not censored for anyone under the age of 16.  We request that you do not bring small children to class.
---
Latest News
June 5, 2017
2017 LNSP Lake County Captains Outing – July 9th
Join Lil' Kickers and Lil Sluggers for a fun afternoon at the Lake County Captains on Sunday July 9th. Children enrolled in kickers and sluggers receive FREE entry AND get to go on the field before the game!!! Family members are able to get discounted tickets for $8. Join the Facebook event! REGISTER HERE!
March 16, 2017
LNSP Corporate Challenge 2017 – April 8, 2017
Lost Nation Sports Park East of Willoughby, Ohio will be hosting our Second Annual Corporate Challenge on Saturday, April 8th 2017. Presenting Sponsor: ONYX Fit Lost Nation Sports ParkCorporate Sponsors:First National BankApollo Welding & FabricatingProforma Sterling Media This corporate challenge will include multiple competitions throughout the day, including obstacle course, basketball, kickball, volleyball, dodgeball, […]