New Improvements at Lost Nation Sports Park East!
LNSP is pleased to announce that a brand new basketball/volleyball floor has now been installed.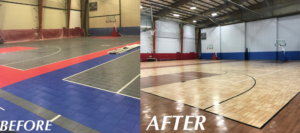 · The flooring has the look of a wood floor, but is a special sport-specific tile manufactured by Snap Sports Athletic Surfaces of Salt Lake City, Utah.
· These playing surfaces are both attractive and durable, which is a prerequisite given the amount of league play on the courts
In addition to the new flooring we painted the interior walls in the basketball area. Our painting contractor (Great Looks Painting) did a great job & the entire basketball area has gotten a facelift. The painting also included the soccer concourse and mezzanine.
We trust that our basketball and volleyball customers share the excitement as we introduce the new playing surface. Play ball!
---
Other News
November 10, 2017
LNSP EAST Christmas Camps
– SOCCER – Wed. December 27th + Thurs. December 28th 11am- 1pm | $65 per player Focus on skill training to include finishing and goal keeping Directed by Ali Kazemaini /440-221-0810 – BASEBALL – Thurs. December 28th + Fri. December 29th throwing – pitching – hitting – fielding 10-12 yr. olds / 12:00-2:00pm 13+ […]
October 26, 2017
LNSP EAST Winter Golf League!
It's time for the 2017-2018 Indoor Golf League to begin!!! The 1st half begins the week of Nov. 6 and runs through the week of Dec. 31, with the playoffs starting the week of Jan. 1. The Championship round will be played on Jan.11.(Thursday) It will be an 8 week league, with the second half […]