LNSP'S EAST 3 Step Soccer Approach!
PARENTS INFORMATION SESSION
Saturday, March 4th 
Join league directors of Lil Kickers, Soccer 101, and Lost Nation Sports Park Youth Leagues for an informative morning session on each program and how this 3 step approach will help your child become the best soccer player they can be!
For more information contact league directors:
Lil Kickers – Dan Naderer / dnaderer@lnsportspark.com
Soccer 101 – Danny Bartulovic / danny.bartulovic@lnsportspark.com
Soccer Director – Ali Kazemaini / kaz@lnsportspark.com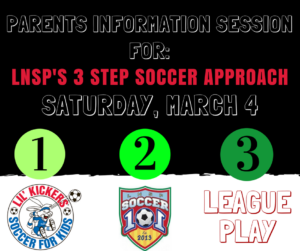 ---
Other News
June 5, 2017
2017 LNSP Lake County Captains Outing – July 9th
Join Lil' Kickers and Lil Sluggers for a fun afternoon at the Lake County Captains on Sunday July 9th. Children enrolled in kickers and sluggers receive FREE entry AND get to go on the field before the game!!! Family members are able to get discounted tickets for $8. Join the Facebook event! REGISTER HERE!
March 16, 2017
LNSP Corporate Challenge 2017 – April 8, 2017
Lost Nation Sports Park East of Willoughby, Ohio will be hosting our Second Annual Corporate Challenge on Saturday, April 8th 2017. Presenting Sponsor: ONYX Fit Lost Nation Sports ParkCorporate Sponsors:First National BankApollo Welding & FabricatingProforma Sterling Media This corporate challenge will include multiple competitions throughout the day, including obstacle course, basketball, kickball, volleyball, dodgeball, […]