COED ADULT KICKBALL COMING FALL 2017 (Willoughby)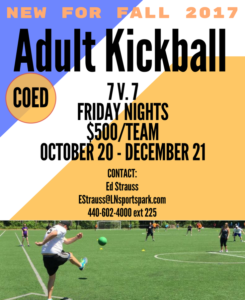 ---
Other News
August 22, 2017
New Improvements at Lost Nation Sports Park East!
LNSP is pleased to announce that a brand new basketball/volleyball floor has now been installed. · The flooring has the look of a wood floor, but is a special sport-specific tile manufactured by Snap Sports Athletic Surfaces of Salt Lake City, Utah. · These playing surfaces are both attractive and durable, which is a prerequisite […]
June 5, 2017
2017 LNSP Lake County Captains Outing – July 9th
Join Lil' Kickers and Lil Sluggers for a fun afternoon at the Lake County Captains on Sunday July 9th. Children enrolled in kickers and sluggers receive FREE entry AND get to go on the field before the game!!! Family members are able to get discounted tickets for $8. Join the Facebook event! REGISTER HERE!