Beginners Yoga Workshop Series – Begins March 6th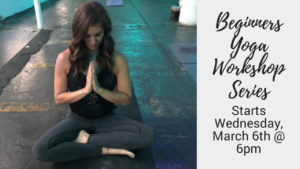 Need time to ease your mind? Interested in yoga?? Your time is now! Starting your yoga journey can be intimidating. Most studios offer one beginner's style workshop and send you on your way – leaving you with questions and unprepared to start a class.
Join me, Tanja Bartulovic (@yogabytaj), a 200 hour CYT, for a four week beginners yoga workshop series. Spend an hour with me each week starting Wednesday, March 6th to learn yoga basics – names of the poses and how your body should feel and move as you practice. Plus each week there will be a 30 mins guided meditation session to help you focus on mindfulness, and go deeper into your yoga practice.
– Each week we will focus on a new set of poses and practice.
– A non judging environment with others who are new to yoga
– Each student will be assisted accordingly and be given personal instruction as needed.
– Do not eat one hour before workshops
– Bring water, yoga mat and towel
– Leave your troubles behind
Pay in advance: $60 includes (4) 1 hour sessions + (4) 30 minute guided meditation sessions or pay as you go for $20 per workshop.
Dates and times for the workshops:
Wed, March 6 – 6:00 – 7:00pm
Wed, March 13 – 6:00 -7:00pm
Wed, March 20 – 6:00 -7:00pm
Wed, March 27 – 6:00 – 7:00pm
To sign up, join the facebook event here and message Tanja through the event!
---
Other News
January 29, 2019
HIIT – Yoga Shred ™ – FREE CLASS 2/7
HIIT – Yoga Shred ™ Thursday, 2/7 7:15 pm | FREE class, no preregistration required Held in the upper-deck banquet room at LNSP EAST. Combine HIIT (High-Intensity Interval Training) + Yoga to promote a total body transformation in less time! Research proves that Tabata-style intervals (20 seconds on/10 seconds off) burns more calories per minute than […]
November 19, 2018
Holiday Classic Tournaments – DEC 26-28 WILLOUGHBY
The Holiday Classic is returning to LNSP EAST in Willoughby this December! Below are the dates and prices. For more information please contact the name listed with each tournament! DEC 26. MENS OPEN / DAVID BARTULOVIC / 440.488.1469 / DBartulovic@LNSportsPark.com DEC 27. HIGH SCHOOL OPEN / KAZ / KAZ@LNSportsPark.com / 440.221.0810 DEC. 28. YOUTH OPEN/ […]